What are the colours trends for 2020 ?
This year, weddings will be colourful ! The colours trends will be bright ! Bright colours are making a comeback. They are taking the place of the neutral colours that have been seen in recent years.
Whether it is in your floral decoration, in your outfits or accessories or even in the decoration of your venue, this year the colours are on the front line ! Here's what 2020 will bring for a colourful wedding.
Bright colours will be the stars of your wedding and if Pantone has announced that this year's colour will be Classic Blue, inspiring confidence, serenity and sharing; do not hesitate to go in pink, yellow or even orange tones.
You can choose a dresscode for your maid of honour and the bestman, or use colourful flowers in your decoration, whether fresh or dry, the result will be splendid !
For the most daring who wants something really unusual, you can surprise all your guests with a colourful dress ! Many collections reveal colourful dresses, they can be red, pink, blue and some designers even break all the rules by offering black wedding dresses.
If you do not want a traditional white dress, you will inevitably find the one that sticks the most to your personality and you will be elected for sure "Most modern bride of the year"!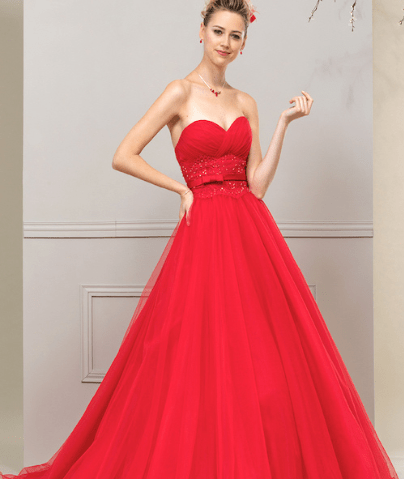 Photo credit Eglantine Créations
Terracotta, gold and pink gold
Very trendy this year, the Terracotta colour will be fantastic with black for a very chic and contemporary look. This warm colour less bright than red and softer than orange, will be perfect for a fall wedding.
This year again, the colours trends remain to gold and copper, called pink gold as well, remain essential to perfect your decoration. You can use it to link the different colours of your wedding, that always will be very sophisticated.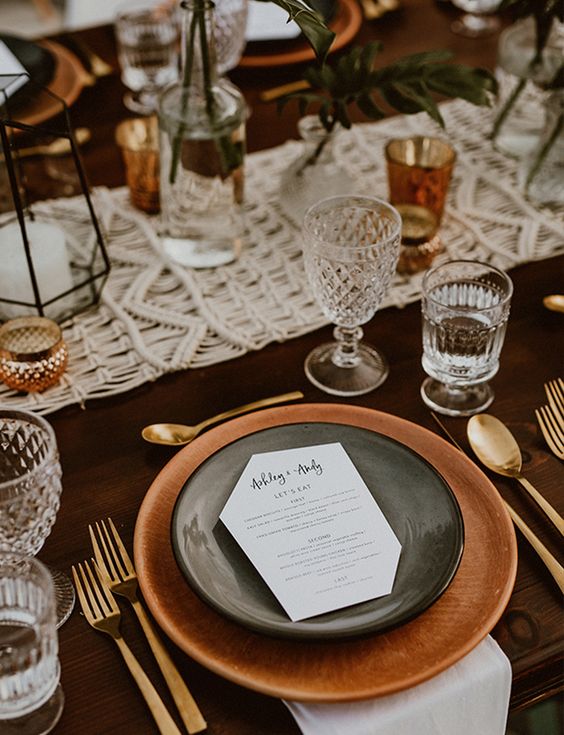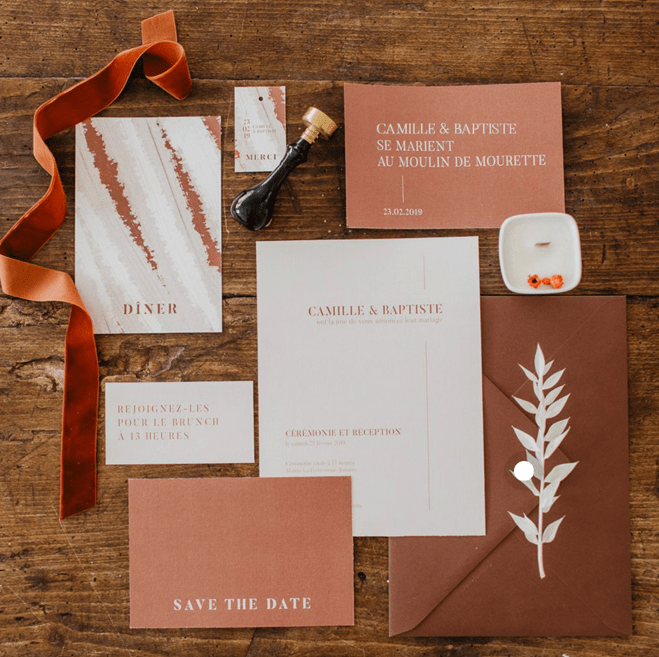 Light up your decoration !
Smoke bombs will be an essential part of your decoration this year to make your wedding a colourful moment. That will bring creativity and originality to your pictures and all you guests will be amazed !
Feel free to use it for your couple photo shoot or to make a nice photo shoot with your friends. Pictures will be great and everyone will enjoy the show.
If your ceremony is outside, the smobe bombs are perfect for a great openning ball. That would be absolutely amzing and you can be sure that all your guests will always remember this moment !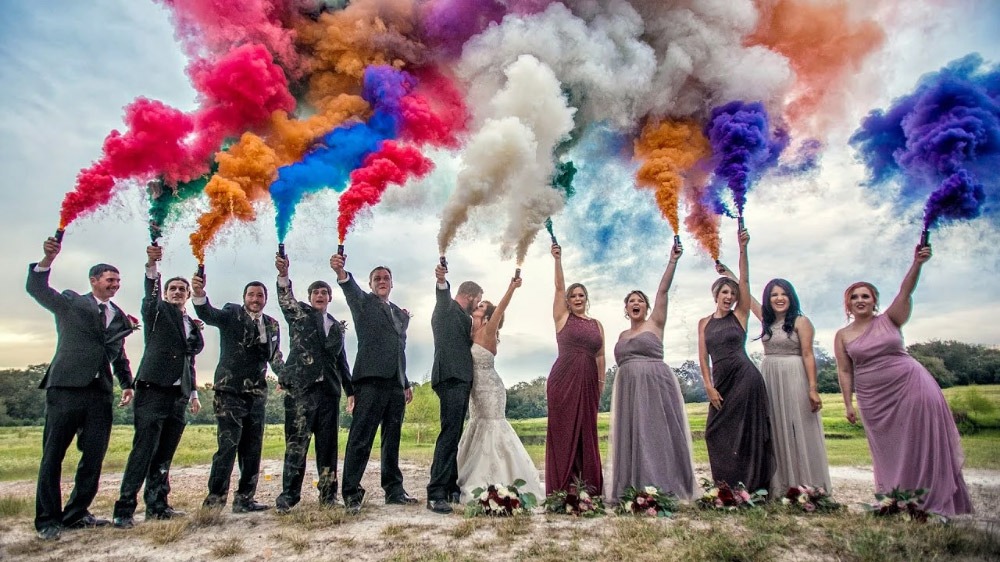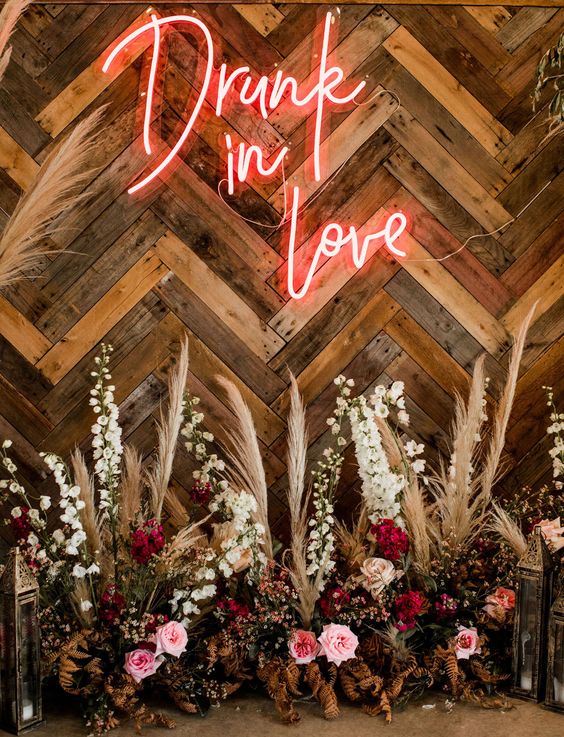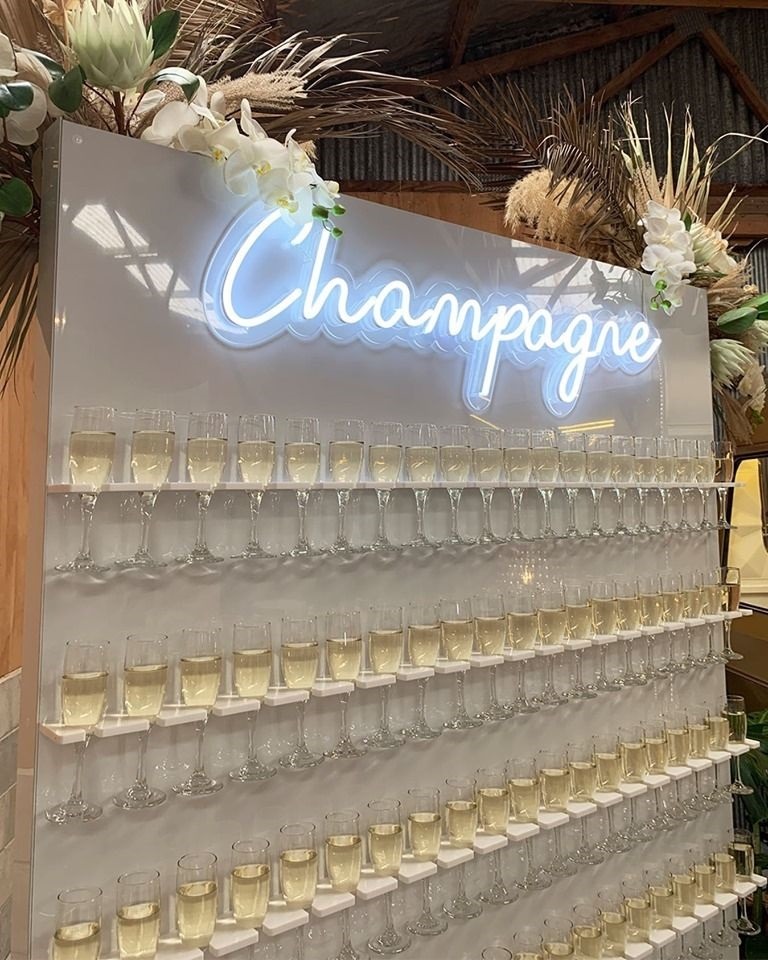 Photo credit Radikal Néon
Bring an extra touch of colour to your decoration with neon lights. Customizable in both shapes and colours, neon lights will illuminate a good number of weddings this year by broadcasting the message you want: a love message, the title of a song, a quote … You choose the message that sticks the most to the atmosphere of your wedding.
These very modern signs can be romantic, humoristic or even rock'n'roll and no matter the style of your wedding, neon lights have the advantage of blending into any decor. Also, they are very modern because they are suspended. This is very trendy this year to hang some objects in your decoration !
They will be your allies to bring colour and a originality to your decoration!
You understood that you have many choices to follow the colours trends ! This year the colours are in the spotlight. And your decoration it's going to be absolutely stunning !