DIY : 5 gifts to create yourself for your guests
DIY means Do It Yourself! It refers to the creative activities you can do yourself in everyday life. This trend has developed over the last few years and even more so as a result of confinement. Indeed, with more time, people have enjoyed creating little things with what they had at home.
Do you also want to have a "home made" touch for your wedding? You have a creative soul and you are manual? Then dare DIY for your guest gifts. Find the top 5 gifts to make yourself for your wedding!
DIY Soy wax candles
More ecological than beeswax, soy wax candles are gorgeous !
Necessary equipment
Soy wax, cotton wicks, a jar for your candle (small tips, you can use the glass yoghurt jars), a funnel, a saucepan, a glass salad bowl and a few drops of essential oil of your choice.
Preparation
Place the wax shavings in your resistant glass salad bowl and melt in a bain-marie. Be careful not to burn yourself. Once the wax has melted, add your drops of essential oil. If you wish, you can also color your candle with specialized dye. In your glass jar, place your wick in the center and make sure that it holds straight. You can use a clothespin and a wooden rod. Gently pour the melted wax into your jar. Allow to cool. Remove your pliers and the rod and cut the wick to the desired size.
Here you have a nice homemade candle. Finally, you can personalize your pot!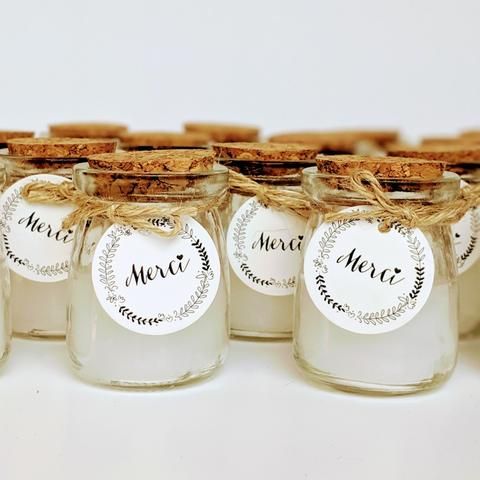 DIY Seeds of flowers to sow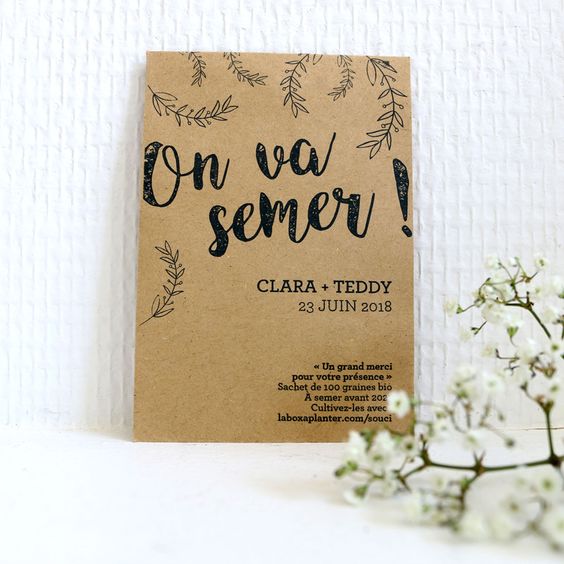 Crédit photo La fabrique à sachets
Your wedding theme is country and natural? This DIY is made for you. Offer as a gift for your guests pretty flower seeds to sow.
Equipment
A container such as a tea bag or jewelry bag, an old spice bottle or jar. In addition, you will need a bowl, funnel and seeds.
Preparation
Mix your different seed packets in a bowl. With a funnel, place your mixture in your container. Put a personalized label on it by hand or digitally. And you're done!
DIY Customized shortbread
Also, for pastry-cook weddings and gourmet guests, there's nothing like a good cookie. Replace your sugared almonds with homemade shortbread. For the recipe there are hundreds of them: plain, flavoured, with icing, or rather with chocolate chips. You will find all the recipes you dream of on the internet! However, remember to keep the cookies in an airtight box when they are baked. You can wrap them in cloth bags, with a small personalized presentation label for your wedding.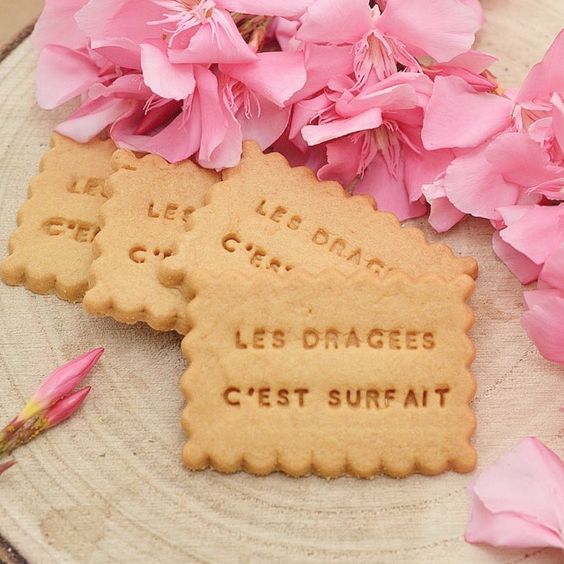 Crédit photo Shanty biscuit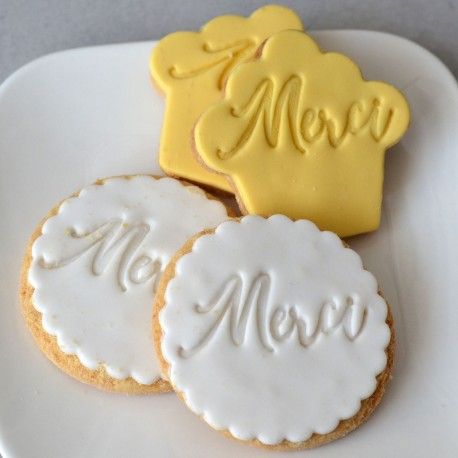 Crédit photo La boîte à cookies Paris
DIY Small soaps
Because you always need soap at home. Make your guests happy with this practical and easy to make little gift.
Equipment
500g of glycerine soap, dried flowers, colored flakes or shavings, a cookie cutter of your choice, and soap perfume (essential oil or fragrance).
Preparation
In a glass container, preferably rectangular or square, melt your bar of soap in a water bath or microwave. Once melted, add your drops of perfume as well as your dried flowers or glitter. Also, you can make it odourless and keep it natural. Let it dry for about two hours. Once solid, using your cookie cutter, cut out your soaps. Normally they are supposed to be easy to unmould. However, if this is not the case, don't hesitate to soak your punch in boiling water to facilitate the cutting.
So here you are with pretty little soaps ready to serve. Now, find a bag or other container to present your gift and please your guests!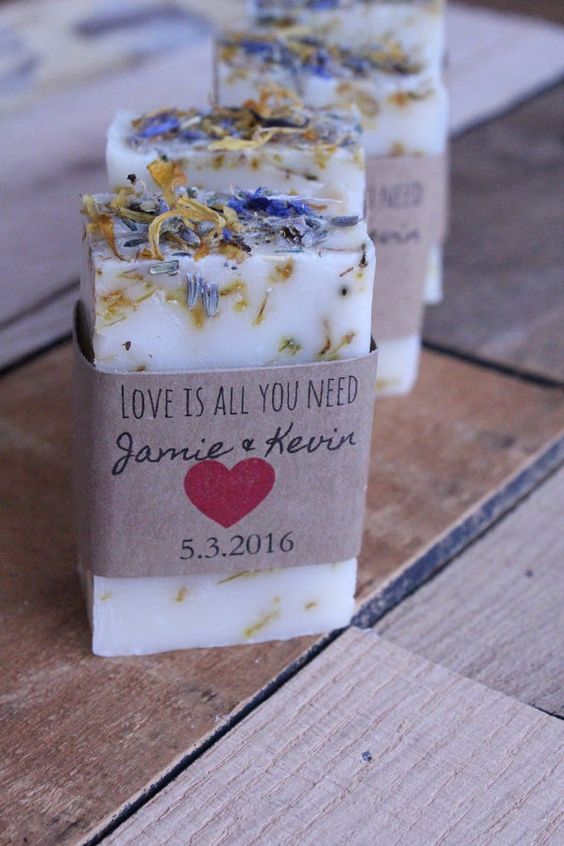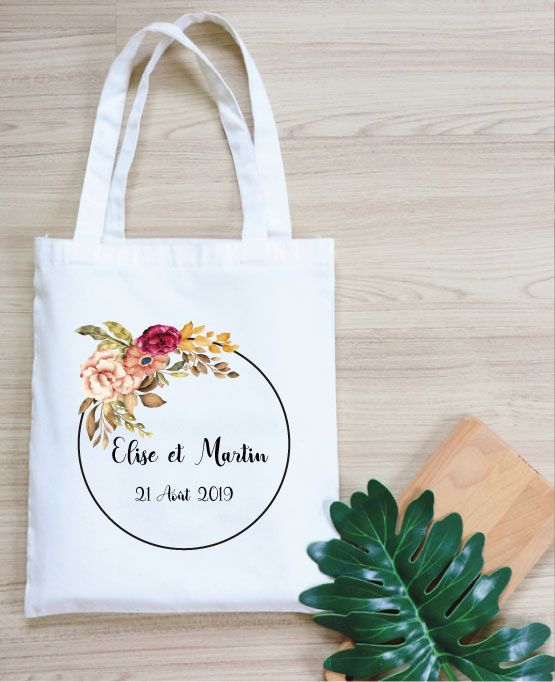 Crédit photo Faire part nature
DIY Embroidered totebags
The totebag is the trendy eco-responsible bag! So get your threads and needles and let's go for personalization.
Equipment
Embroidery thread, needles, drum, erasable fabric felt, scissors, neutral totebag.
Preparation
Position your drum on the bag and more precisely on the area to be embroidered. Write your previously printed text with your erasable marker to use the same one for everyone. For example, you can write the first names of the bride and groom with the wedding date. Also, you can write the date of the wedding with the first name of the guest.
Nevertheless, for the less resourceful, you can customize your totebags directly online on specialized sites. The bag will be sent to you ready-made and you will save time.
Thanks to this top 5 DIY gifts, you're sure to surprise your guests! You can realize these small attentions without too much difficulty and your guests will be delighted to have personalized gifts from the bride and groom. Bet on the originality, the gifts for your guests are not necessarily eaten!